Information
Press Release: YTV format "The Rolling Kitchen" to air on NTV, Mongolia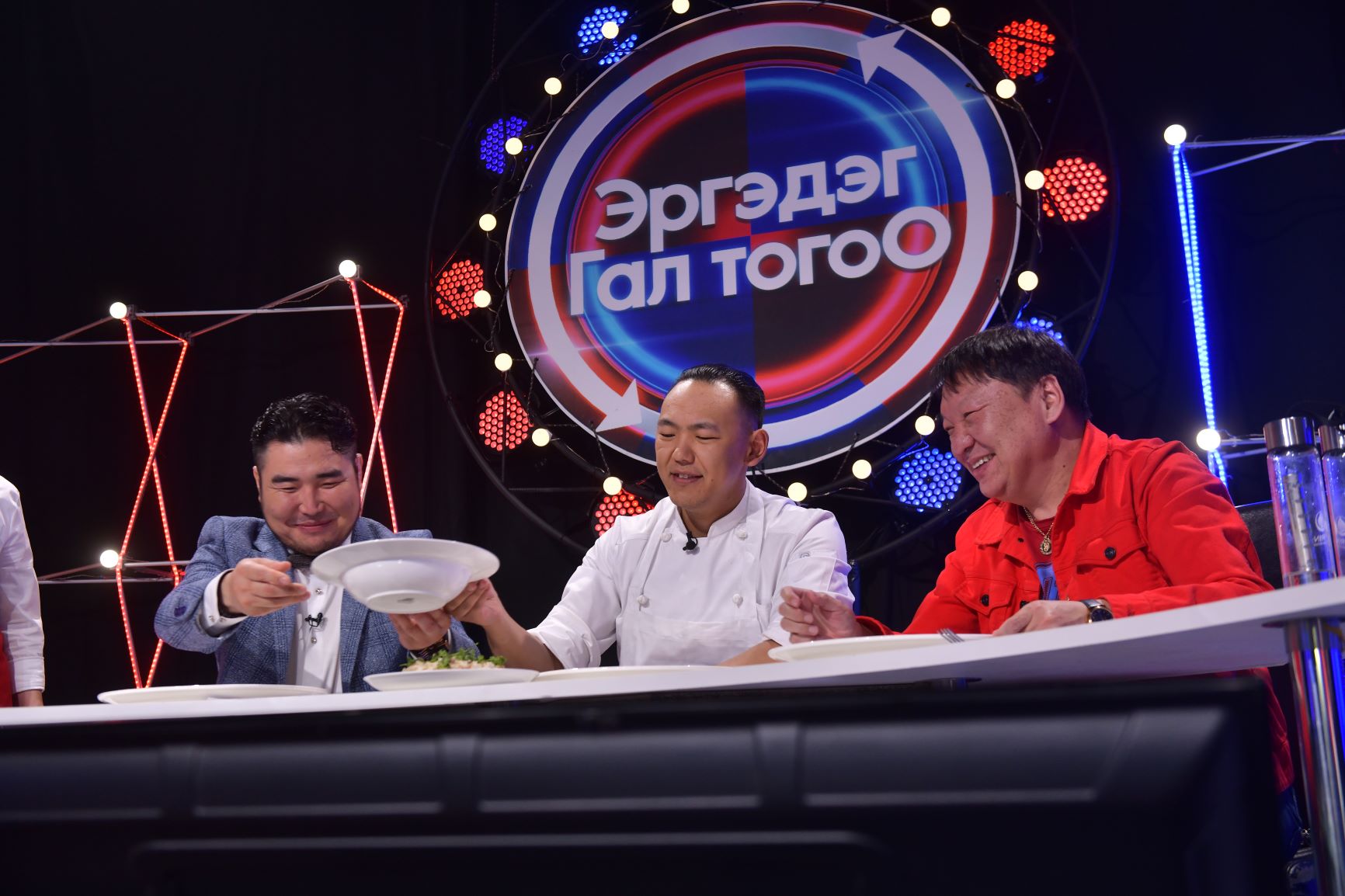 Yomiuri Telecasting Corporation (YTV) and NTV in Mongolia announce that Mongolian version of "The Rolling Kitchen", YTV's exciting cooking show format, has been produced and is to premiere on Sunday 4th April 2021 on NTV.

In this spectacular studio-based cooking show, 2 couples compete to see which team can create the best dish to win a cash prize. Within 40 minutes, couples need to cooperate and create 2 dishes. However, the kitchens are separated and conversations about cooking process are prohibited. And here is the twist. Every 10 minutes, the kitchen rotates 180 degrees. The husband must take over the wife's dish and the wife must take over the husband's. Couples need to read each other's minds and estimate the cooking procedure to win. They are expected to create the best dish with bonds of love.

On NTV, Mongolia, a series of 12 episodes will be broadcast at 18:45-20:05, primetime on Sundays, starting on 4th April 2021. In the Mongolian version, the contestants are not only husbands and wives, but also friends, colleagues, and others. The original format was broadcast in Japan in September 2018 and launched for international sales at MIPTV 2019. The format is currently represented by Global Agency for Europe and Middle East (excluding Turkey) and by YTV for the rest of the world.  

Comment by Norihiro Miyamoto, General Manager, Content Business Department, YTV 
More than a year has passed since the coronavirus pandemic spread worldwide. It has been a year for the world to face this unprecedented threat, but it has also been the year for those with their families or partners to spend their time together at home, more than ever. Sometimes you may find that things work well or do not work well when you spend so many hours together. Our game show format "The Rolling Kitchen" could give the viewers a window to look into such domestic scenes.
We are very honored that NTV, Mongolia is localizing this format. We are confident that this game show will provide entertainment to everyone in the world across the borders, reflecting what goes on in every household or relationship that the viewer can relate to.

Comment by Amarjargal. B, Head of Production Department, NTV 
The selection process for YTV's "The Rolling Kitchen" was very quick. We fell in love at first sight.
After watching the pilot episode in English, we were already discussing about this as our next cooking show and the management decided to do the production.
TV stations in many countries will definitely show interest to this format. 
We are delighted to be the first TV station in the world to do a full season.
We were able to complete the research and production phase very quickly.
After the successful completion of the recording of the first season, we are now working to deliver it to the audience. Thank you YTV.

About YTV  https://ytvcontents.com/en/
Yomiuri Telecasting Corporation (YTV) is a Broadcaster, Production and Distributor, headquartered in Osaka, Japan.
One of the most successful YTV's scripted formats is "Pure Soul", a love story of a young woman with early-onset Alzheimer's Disease. Its award-winning Korean film adaptation "A Moment to Remember" recorded the highest box office revenue both in Korea and Japan at the time of its premiere. "365: Repeat the Year", a drama series aired on MBC in 2020, is based on YTV's "Wheel of Fortune (Repeat)", another example of Korean remake of YTV's formats.
YTV is also known for its popular entertainment shows, some of which have been running for longer than 25 years. "Hometown Pride", "Downtown DX", for example, are popular as finished tapes. 
As an Animation Powerhouse, the company has produced "Detective Conan" series for over a quarter of a century, as well as "Inuyasha", " Space Brothers", "City Hunter" and numerous other titles that are popular all over the world.
As a broadcaster, YTV is a member of Nippon Television Network System in Japan and it covers second largest area within the network. The company has achieved the top annual rating for six consecutive years since 2014 and is recognized as the Kansai regions' viewer ratings champion.

About NTV  http://ntv.mn/
Launched in 2006, it is a news and entertainment-oriented television station that broadcasts throughout the nation more than 9,000 minutes of program a week. 
It is one of the top 5 TV stations of the nation and the number one show provider.  
NTV has produced many international formats such as "Chef in Your Ear", "My Wife Rules", and "Little Masters" etc.