Information
YTV "Light Away!"
Awarded the best international format pitching by BCWW in Korea!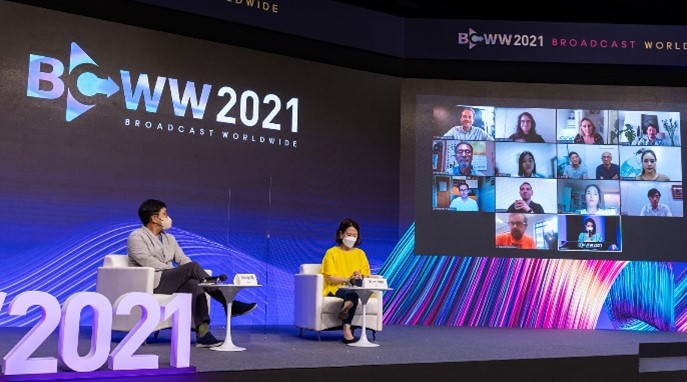 "Light Away! (Air on March 26, 2021) produced by Yomiuri Telecasting Corporation (YTV)* in Japan, was selected as the Grand Prix (top prize) at the BCWW* International Format Pitching held online in South Korea.
The game show was highly evaluated by the jury for its unique idea of a game show using light, which has never been done before, and for its scalability as a format program.
The Challengers called "Darkness Phantom Thieves" compete in the "Hall of Light".
Players challenge a thrilling survival game in search of the winner's spotlight!
There is only one rule: "Don't get caught in the pillars of light!"
In the dark, the challenger walks carefully, avoiding the pillars of light that stretch like a spider web.
In each stage, the challenger tries to reach the diamond without touching the static or moving pillars of light from all directions. The one who clears all stages will receive the winner's spotlight.
It is a highly flexible game show.
We can create courses in any location, including studios and outdoors, can be produced on a low budget.
The show was also nominated for Best Asian Original Game Show at the Content Asia Awards* held online in Singapore.
This game show is sold as a "format sales" program, which means that the remake production rights are sold to countries around the world based on the Japanese version.
---
ref.
*YTV  https://ytvcontents.com/en/
Yomiuri Telecasting Corporation (YTV) is a Broadcaster, Production and Distributor, headquartered in Osaka, Japan, is known for its popular entertainment shows, has produced many international formats such as "Pure soul" and "Light Away".  As an Animation Powerhouse, the company has produced "Detective Conan" series and "Inuyasha" and so on.
*BCWW  https://www.bcww.kr/
The BCWW International Format Pitching is an event held by the Korea Creative Content Agency (KOCCA), the organizer of the BCWW, to determine the Grand Prix (Grand Prize) from among the format works of nine companies from six countries: the UK, the Netherlands, Korea, Spain, France, and Japan.
*Content Asia Awards  https://contentasiaawards.com
The award is sponsored by Content Asia and is held annually in Singapore for each genre of television programming.
【Contact Information】
Masahiko Furukawa (Mr.) masahiko.furukawa@ytv.co.jp
International Sales Manager, Content Business Department
Yomiuri Telecasting Corporation (YTV) https://ytvcontents.com/en/