Colorful Love~My Androgynous Boyfriend~
カラフラブル ジェンダーレス男子に愛されています
2021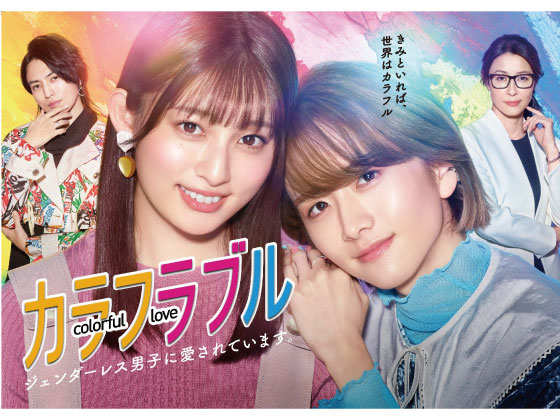 ©tamekou・shodensha/ytv
Wako works so hard day-in day-out that she's left her femininity behind. One day, she meets Meguru, a man with perfect make-up and nails, who instantly confesses his love for her! What exactly is it that draws this unique pair, who look like they could be sisters, together as a couple?

當每天全心全意投入工作,以致「無心打扮自己」的【和子】 ,
遇上妝容和美甲都無懈可擊的【周】!
沒想到這名「美若天仙的男子」才剛見面就大膽地對她告白!
究竟這對總被旁人誤認為「姊妹」的特別情侶,要如何在彼此身上感受異性魅力!?

「きみといれば、世界はカラフル」
カワイく新しい、"眼福"カップルが爆誕!
主人公は、一生懸命働くあまり
自分自身には手を抜きがちな新米漫画編集者「わこ」。
そんな彼女が出会うのは、
メイクもファッションも完璧!な美しすぎる男「めぐる」。
吉川愛×板垣李光人
ともにドラマ初主演となる人気急上昇中の2人が
お互いのありのままを受け入れ合い、
ふたりで一緒に成長していく、新時代の理想のカップル像を描きます!
一緒に歩いていたら
"姉妹"と間違われるようなカワイイふたりが距離が近づいていく
カップルとなってからハッピーなやりとりや同棲エピソードに、"ほっこりキュンキュン"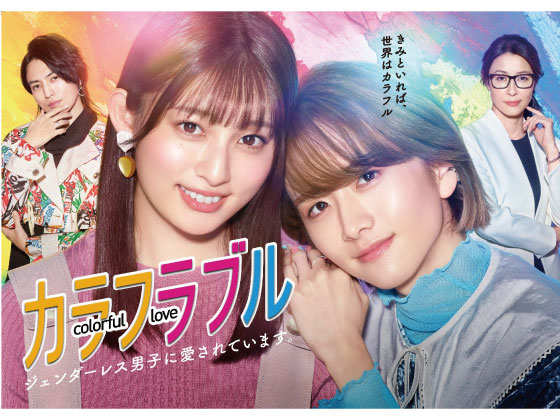 ©tamekou・shodensha/ytv
Details
Duration & Episodes

55min. × 10

Media

HD

Audio

M&SE

Sub

English,Traditional Chinese

Japanese Official Site
Casts/Characters